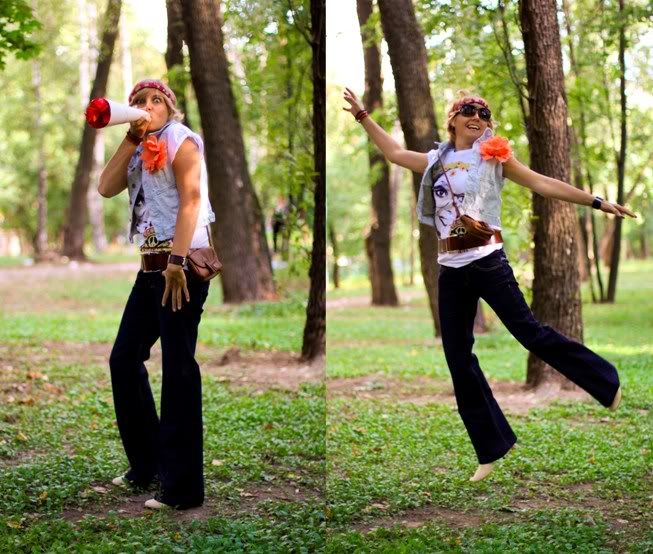 Today I am a hippie! If I lived in the 60s - 70s years, I'd have been a hippie! =) Their way of life is interesting to me and their slogans are pleasant: «Make Love, Not War!» and «All You Need Is Love!» And as the present hippie I couldn't do without "jamb"! My image Hippie was inspired by Ibiza and party the Flower Power club Pacha. I have a feeling that my body is in Moscow, it runs, walks through the city center, eats, drinks and sleeps, and the soul is still somewhere in Ibiza club Pacha. It is not difficult to guess that today I will tell about club Pacha and party Flower Power!
Pacha is one of the most popular clubs in the world, this is a brand and, probably, everyone clubbers want to visit it! On the island the quantity of firm shops Pacha can be compared to quantity of shops Zara in Moscow! =)
Well, nevertheless I will pass to club and a party. Pacha is is located in the heart of the city near the port, I think that it already an indicator. Very much it was pleasant to us that in club adult enough public and the VIP the zone is overflowed. When you approach the club, the first thing that catches your eye - a flowerbed and a huge ikebana of flowers above the main entrance, dedicated party Flower Power! You getting into the club, you find yourself in the golden time of hippies, music of the time in modern processing sets the mood, the whole club is decorated with symbols of the hippie. Girls and guys dancer Go-Go all are dressed in madly beautiful costumes and they move suitably, sensation that you indeed in camp of hippie. There are in club wonderful sound and light system. We was pleasantly surprised that Pacha - this is the only club where there is a restaurant and it is possible to eat! The mad power of club and all in it infects you with spirit of hippie.
Unfortunately,due to the delay of our flight from Barcelona on 11 hours, we couldn't get in Pacha on Pete Tong, I think that this party is not less beautiful and grasping.
Look our cheerful pictures and you will feel for those five minutes Hippie! =)
Пис, друзья!=)
Сегодня я хиппи! Если бы я жила в 60-х – 70-х годах, я бы точно была хиппи!=) Интересен мне их образ жизни и нравятся их лозунги: «Занимайтесь любовью, а не войной!» и «Все, что тебе нужно – это любовь!» И как настоящий хиппи я не смогла обойтись без «косяка»! Навеян мой образ хиппи опять же Ибицей, а точнее вечеринкой Flower Power в клубе
Pacha
. У меня такое ощущение, что мое тело находится в Москве, оно работает, ходит по центру города, кушает, пьет и спит, а душа еще где-то на Ибице в клубе Pacha. Не трудно догадаться, что сегодня я расскажу про клуб Pacha и вечеринку Flower Power!
Pacha один из самых популярных клубов мира, это бренд и, наверное, каждый клабер хочет в нем побывать! На острове количество фирменных магазинов Pacha можно сравнить с количеством магазинов Zara в Москве!=)
Ну, все же перейду к клубу и вечеринке. Pacha находится в самом центре города рядом с портом, думаю, что это уже показатель. Нам очень понравилось, что в клубе довольно взрослая публика и VIP зона переполнена. Когда подходишь к клубу, то первое, что бросается в глаза – это клумба и огромная икебана из живых цветов над главным входом, посвященная вечеринке Flower Power! Попадая в клуб, ты оказываешься в золотом времени хиппи, музыка того времени в современной обработке создает настроение, весь клуб украшен символами хиппи. Девушки и парни гоу-гоу все одеты в безумно красивые костюмы и двигаются соответствующе, ощущение, что ты и вправду в лагере хиппи. В клубе шикарная звуковая и световая система. Приятно удивило, что Pacha – это единственный клуб, где есть ресторан и в нем можно поесть! Безумная энергетика клуба и все в нем заражает тебя духом хиппи.
К сожалению, в связи с задержкой нашего рейса из Барселоны на 11 часов, мы не смогли попасть в Pacha на Pete Tong, думаю, что эта вечеринка не менее красивая и захватывающая.
Смотрите наши веселые картинки и почувствуйте себя на эти пять минут Хиппи!=)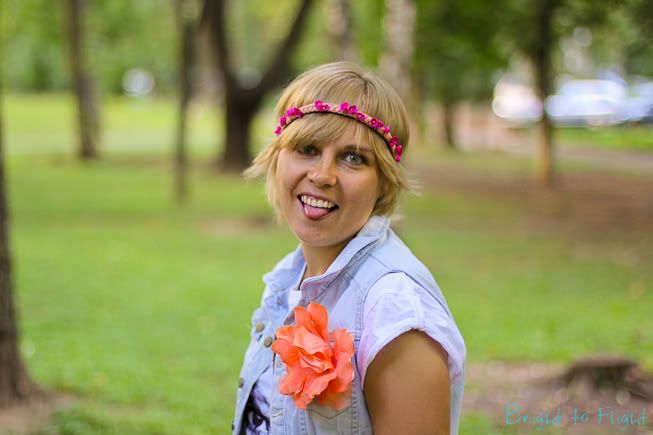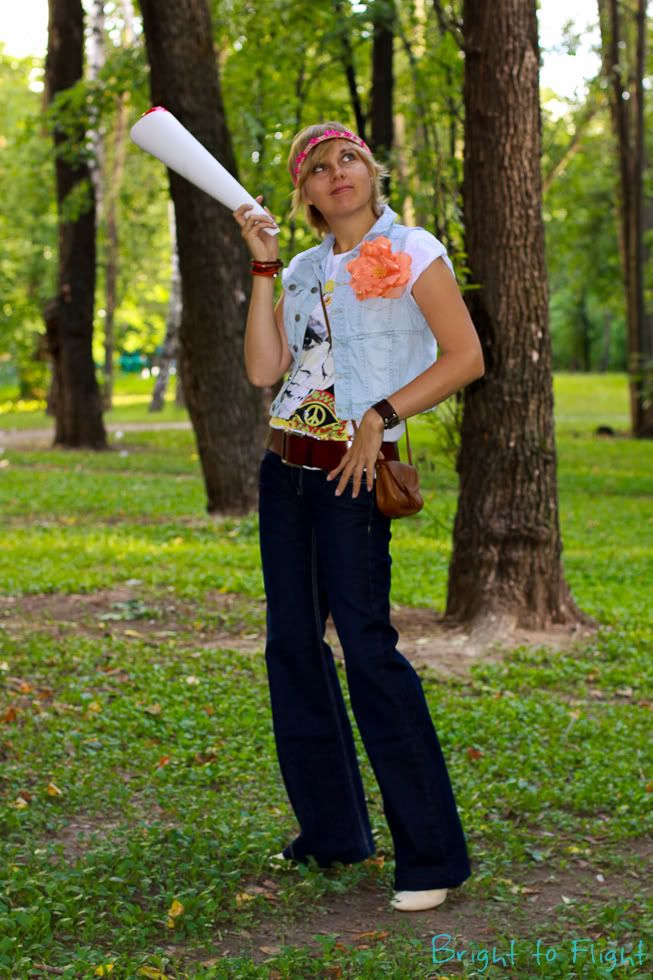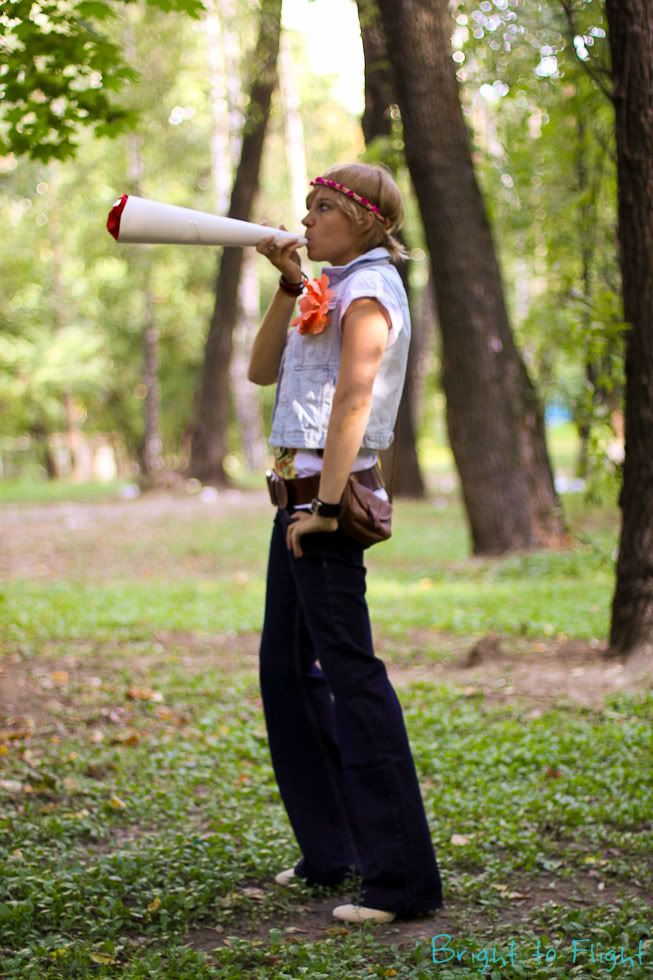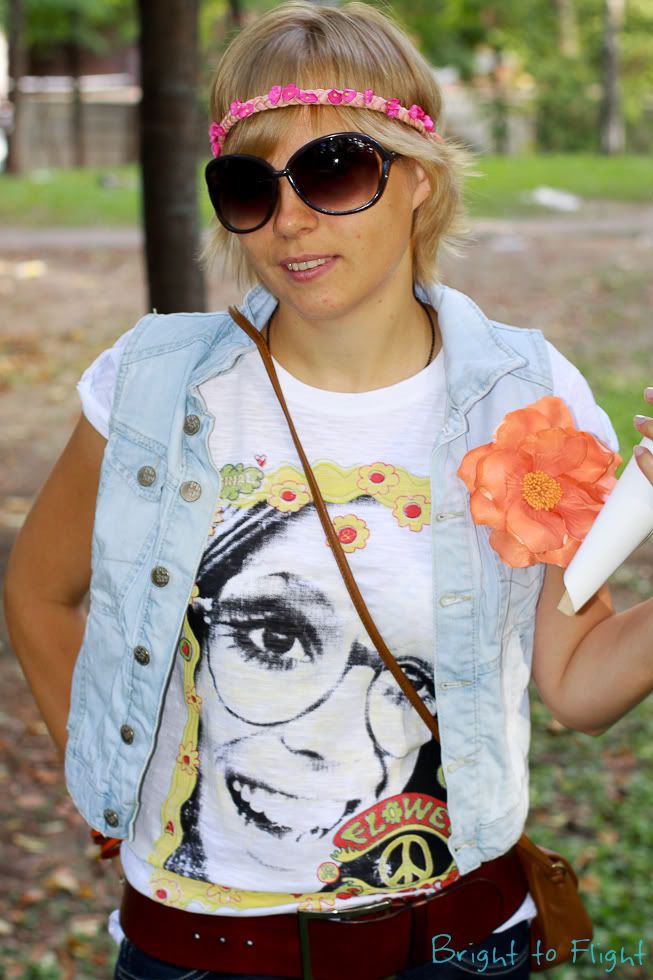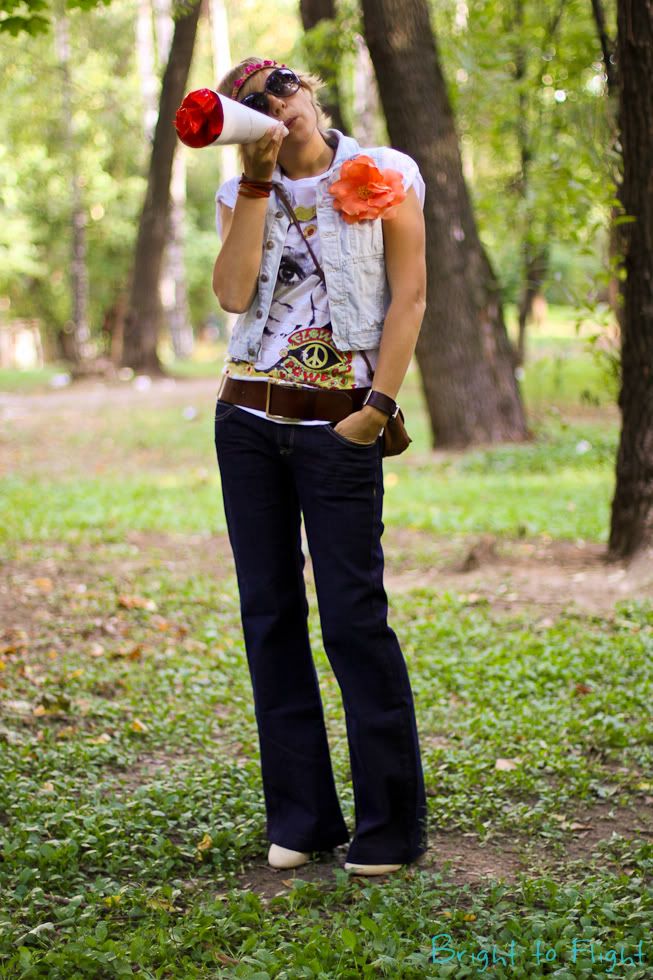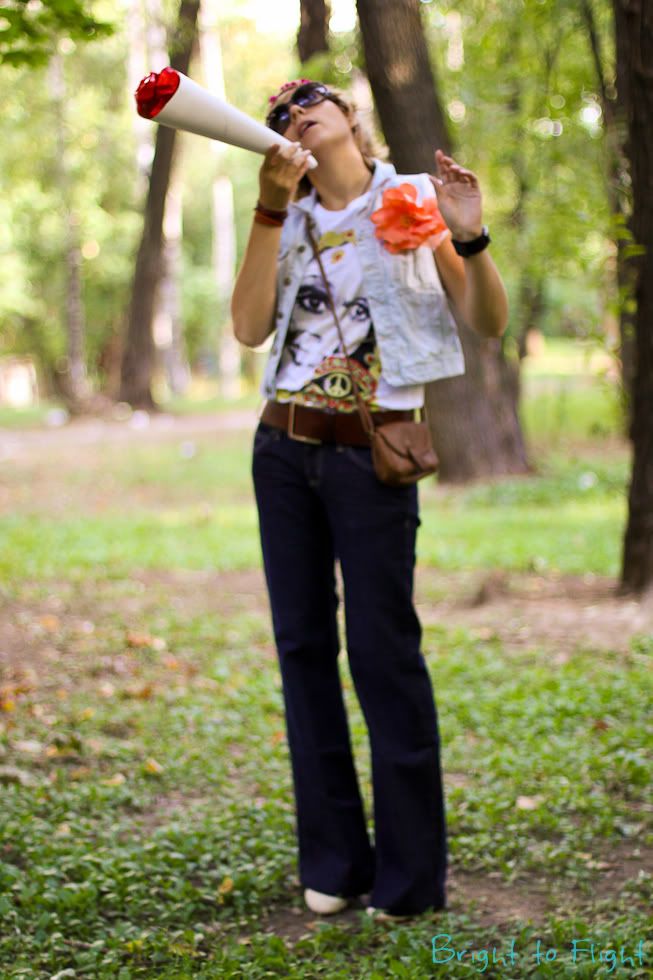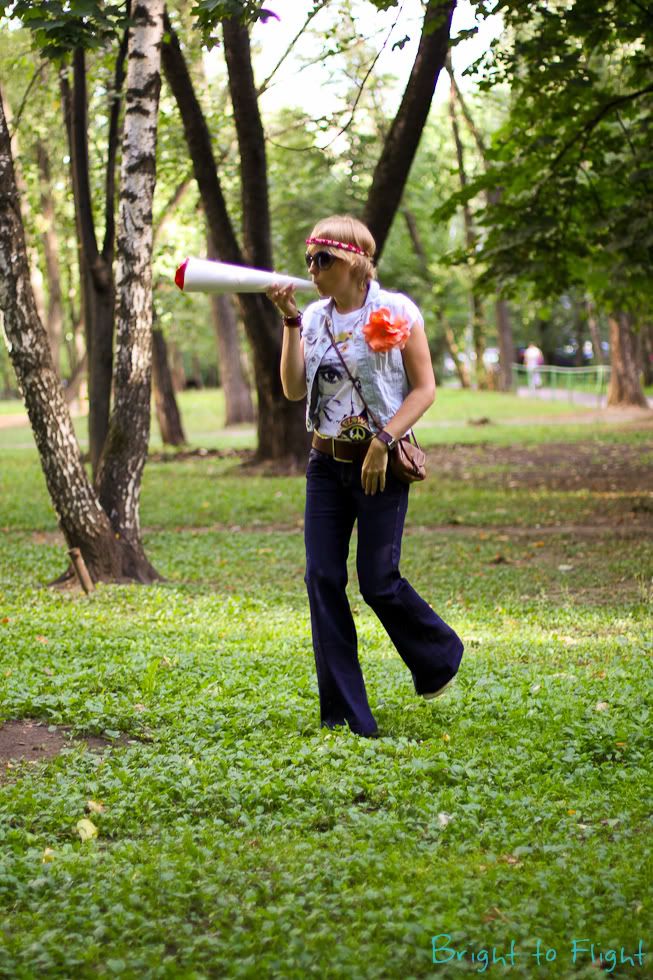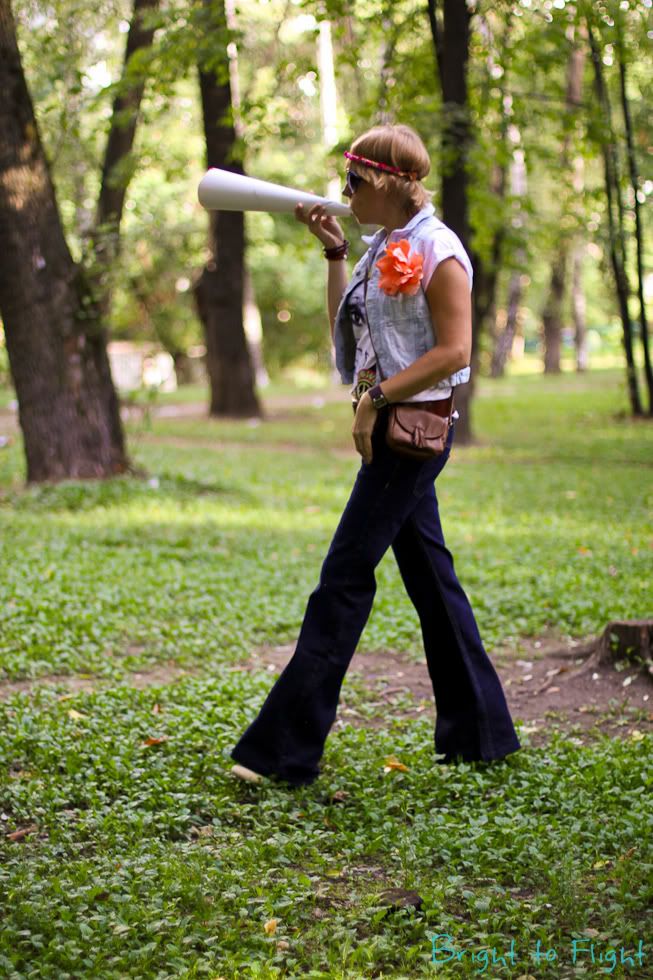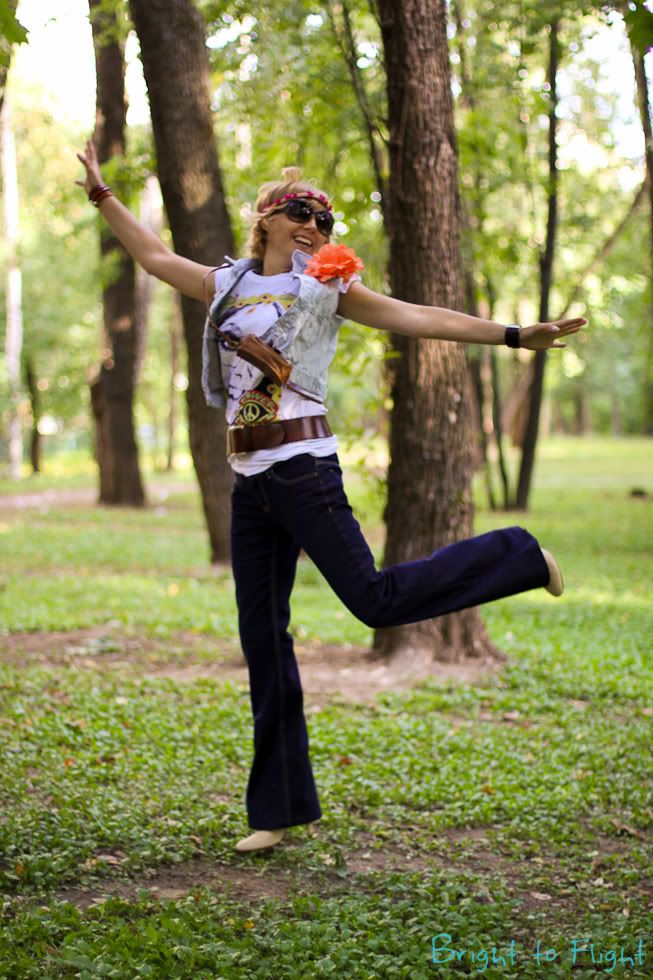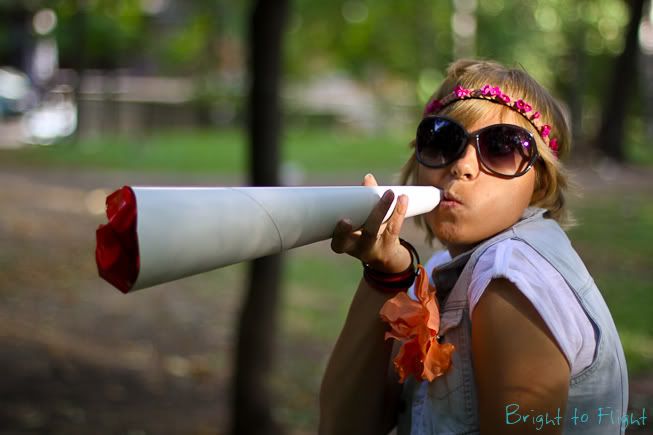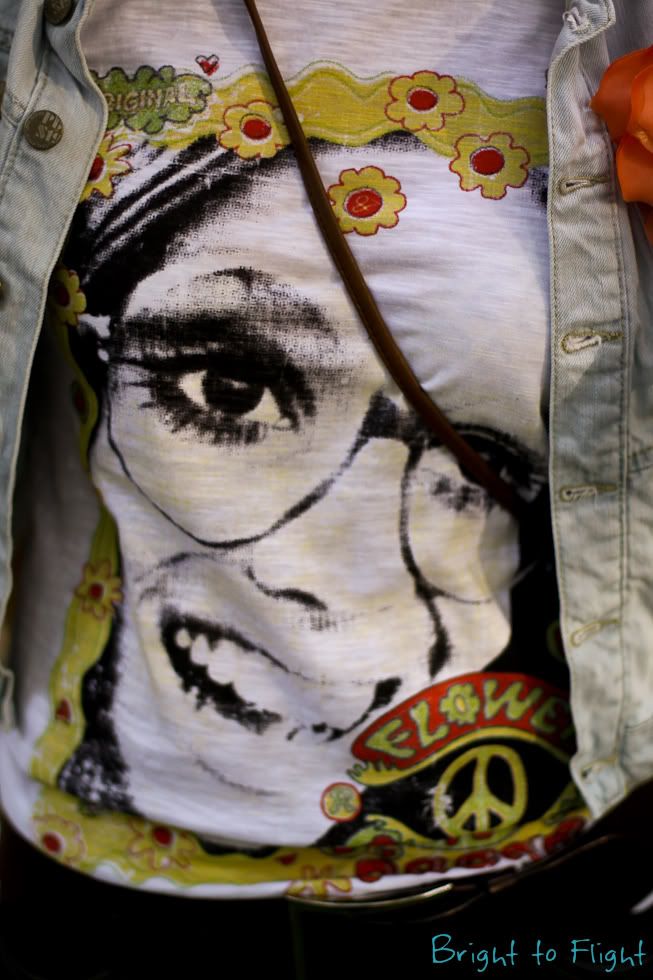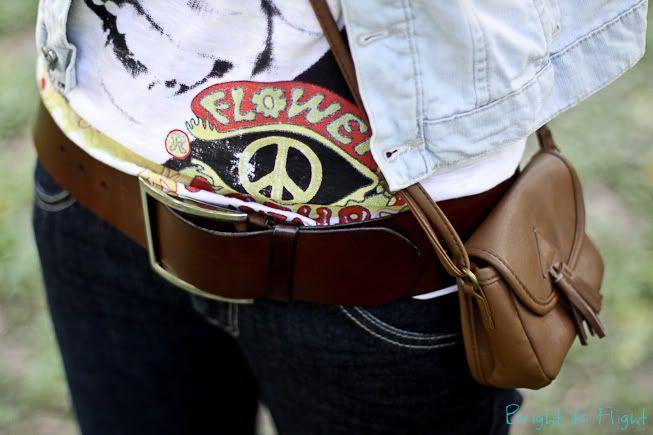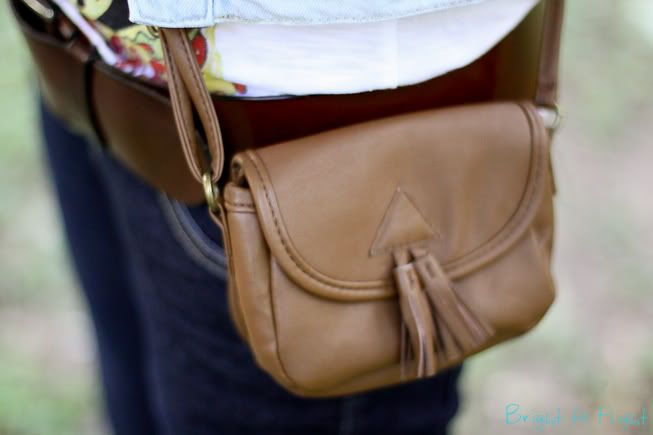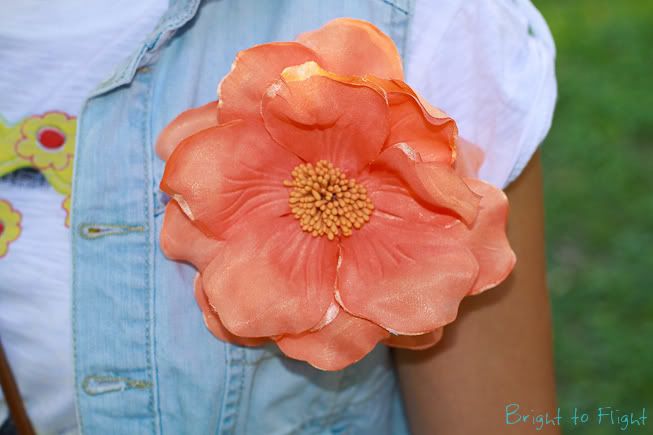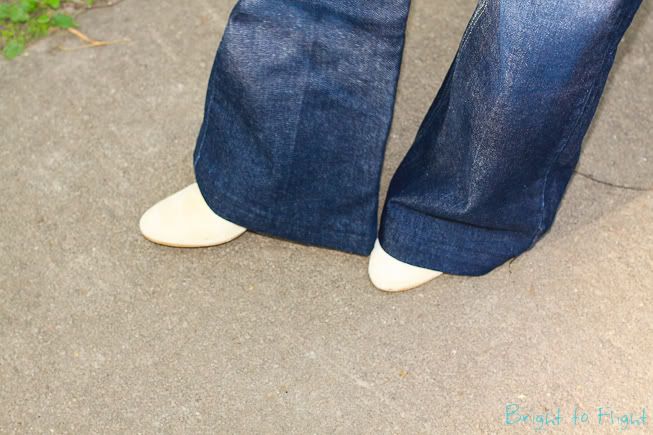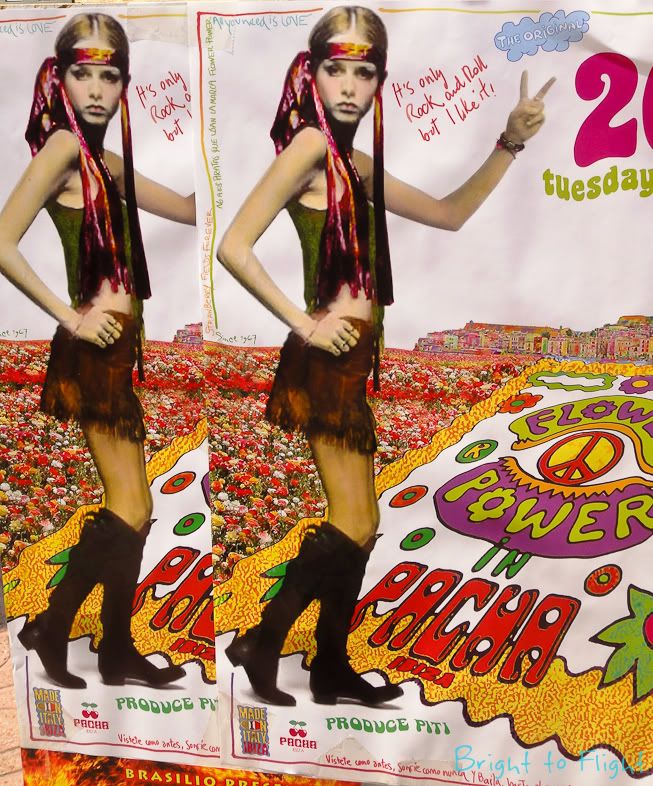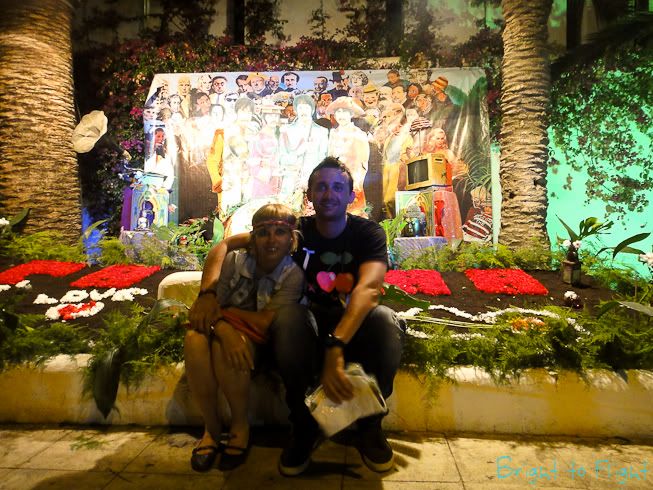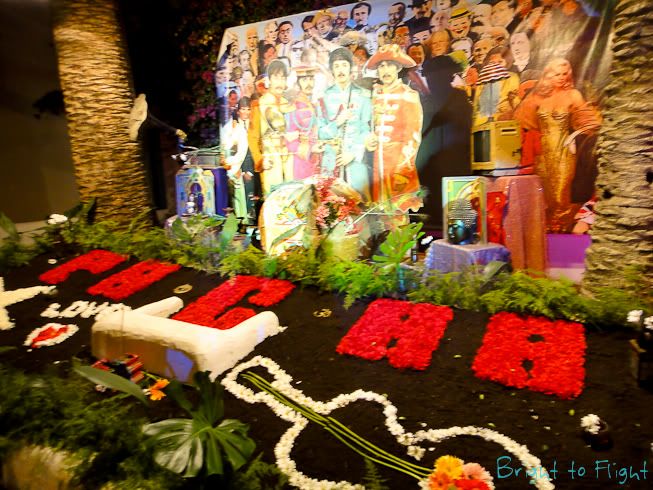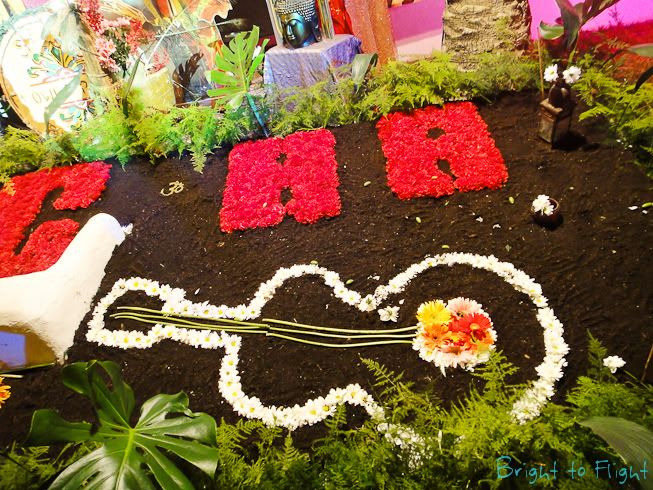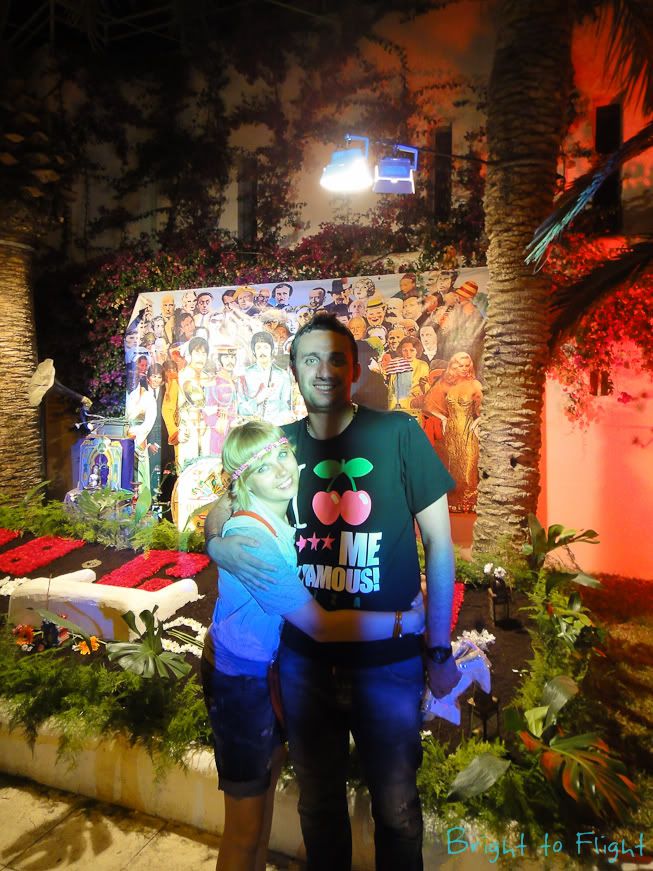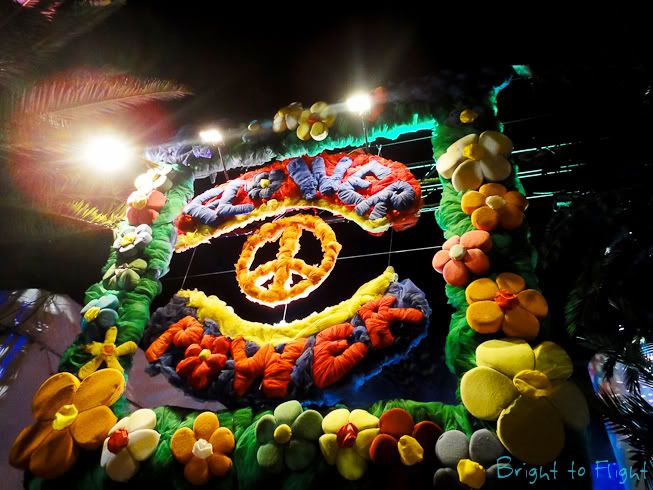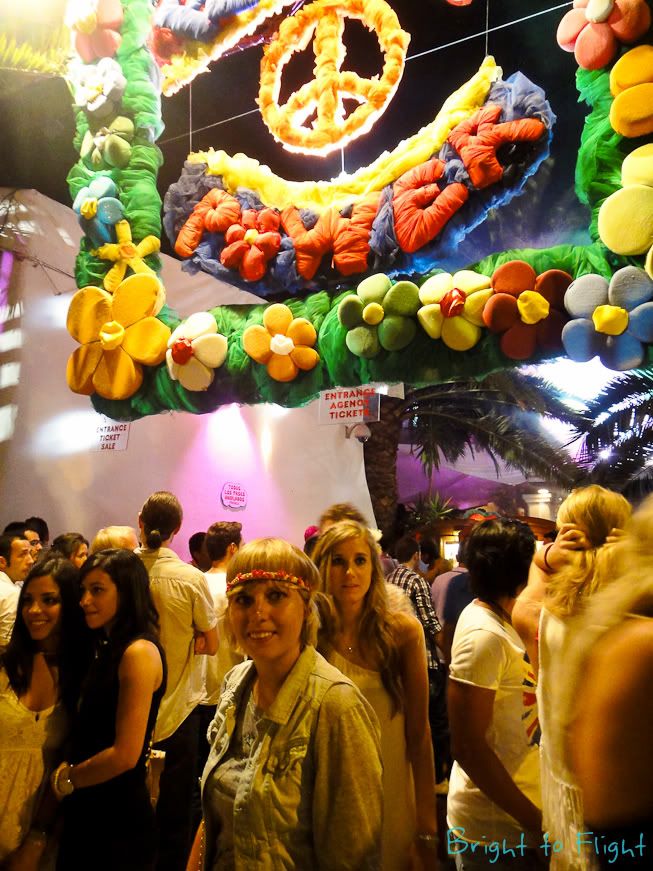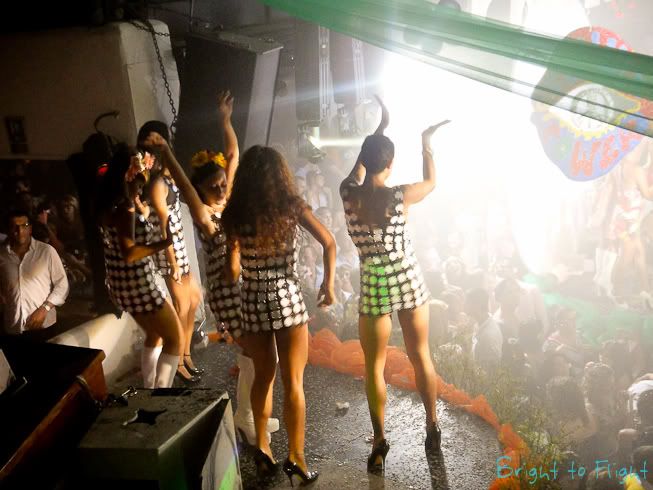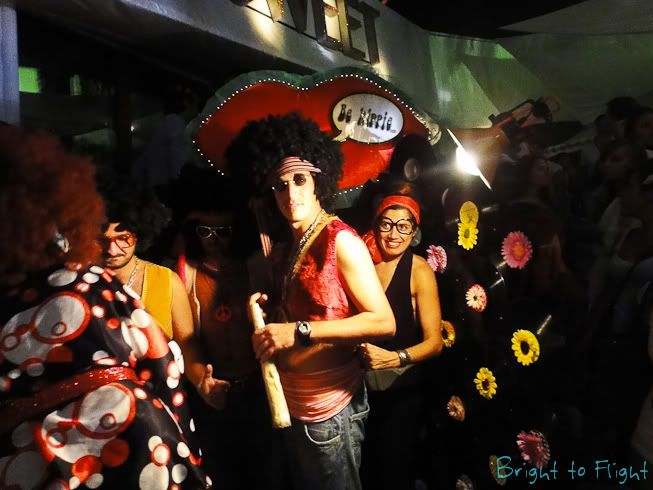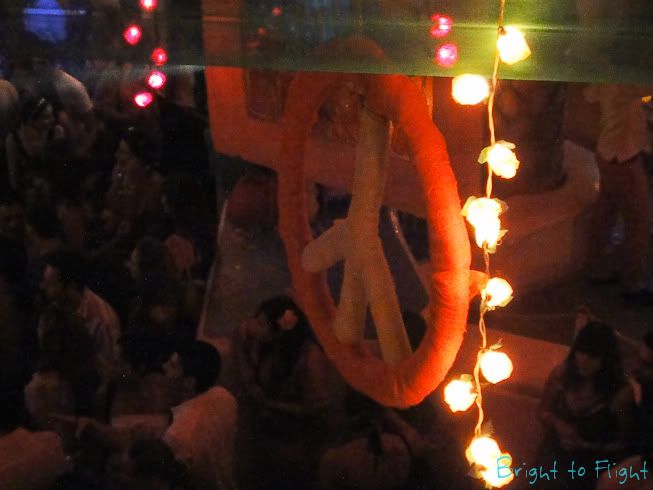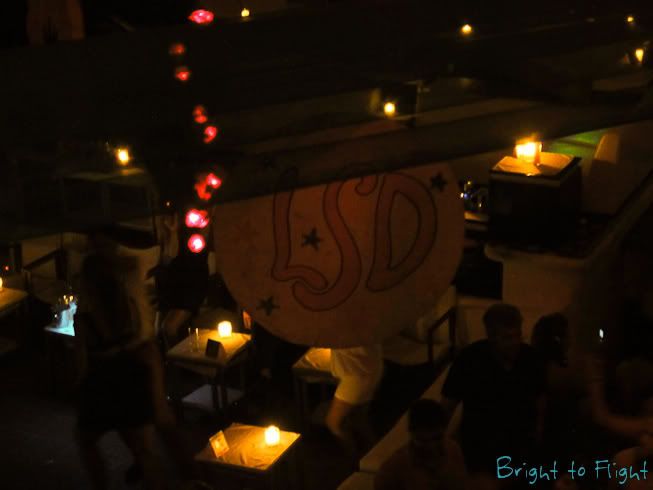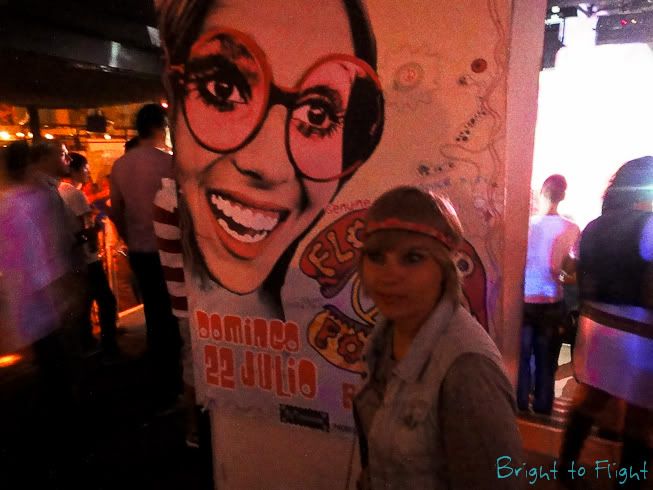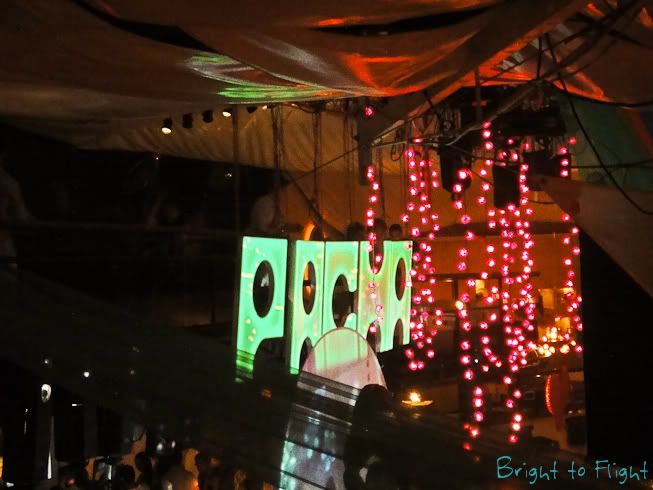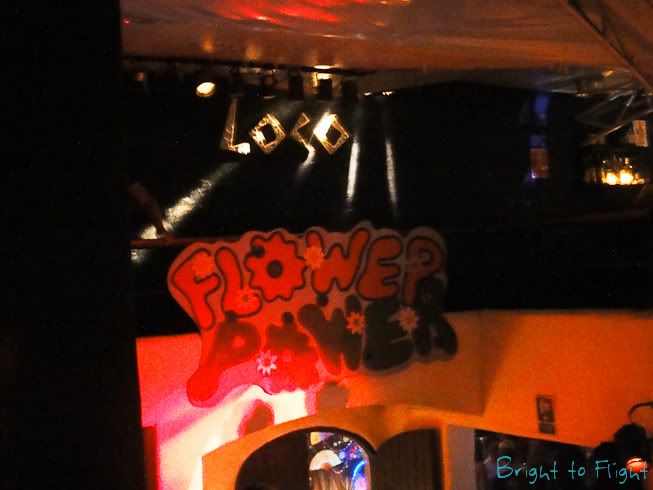 Ботильоны
(Ankle Boots) Broccoli shoes (bought in Italy)
Ремень
(Belt) Sandal shop (bought in Spain)
Сумка
(Bag) no brand (bought in Spain)
Фенечки
(Baubles) Sandal shop (bought in Spain)
Повязка на голове
(Headband) Corinne Philippon (bought in Spain)