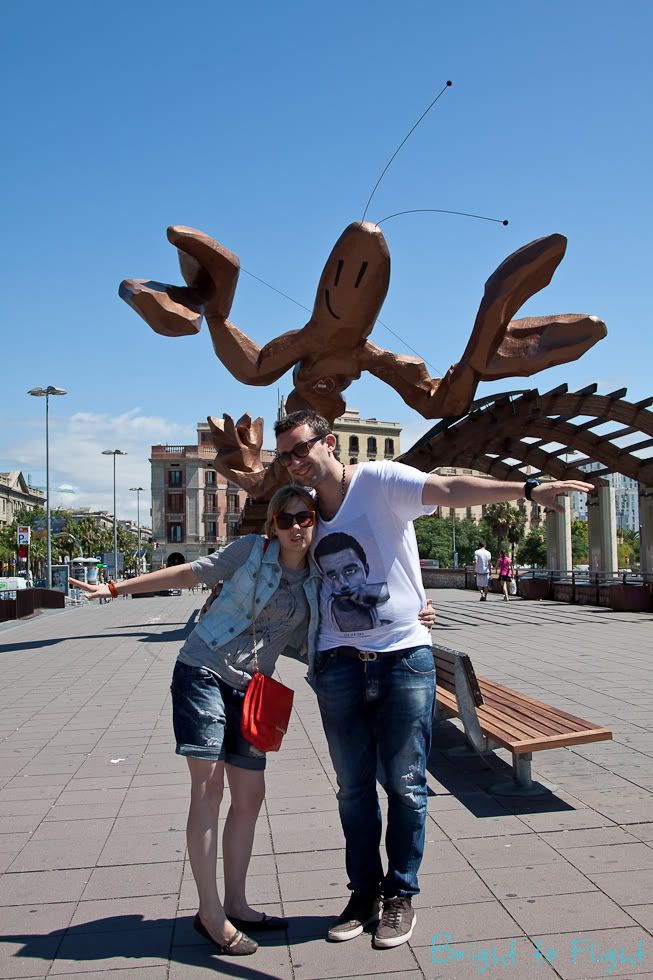 Today we will tell you a little about Barcelona. The city is very interesting and every step possible to see something beautiful and unusual. In Barcelona it is a lot of sights, but about them a bit later, we will tell to you about "sight" the most remembered for us is an Aquarium.
The Aquarium is in port, it is very big and here fishes , probably, more than in the sea! =))
Sharks and moray eels it is something, their glass eyes very much frighten, they resemble the formidable Italian Mafioso which willing to part with you at any moment. One gets the impression that sharks are not alive, but

they are robots with a motor! Looking at flocks of small small fishes, you feel yourself in the first row at

fashion show, a combination of colors in their "look" will leave nobody indifferent!
I hope the photos will give a magical atmosphere of this wonderful place!
Without a ridiculous photo in ours execution, as always won't manage! You smile and enjoy your summer, because already August! =)
Привет, друзья!
Сегодня мы Вам расскажем немного о Барселоне. Город очень интересный и на каждом шагу можно увидеть что-то красивое и необычное. В Барселоне много достопримечательностей, но о них чуть позже, расскажем Вам про самую запоминающуюся для нас «достопримечательность» - это Аквариум.
Аквариум находится в порту, он очень большой и рыб здесь, наверное, больше, чем в море!=))
Акулы
и мурены – это нечто, их стеклянные глаза очень пугают, они напоминают грозных итальянских мафиози, готовых разделаться с тобой в любую минуту. Складывается впечатление, что акулы не живые, а роботы с мотором! Глядя на стайки маленьких рыбок, ощущаешь себя в первом ряду на показе модного дизайнера, сочетание цветов в их «луках» никого не оставит равнодушным!
Надеюсь, фотографии передадут волшебную атмосферу этого чудесного места!
Без смешной фотографии в нашем исполнение, как всегда не обойдется! Улыбайтесь и радуйтесь лету, ведь уже август!))
Чао-какао))