Как поется в одной песенке:
«Оранжевое солнце в облаках,
Оранжевое небо на руках,
Оранжевые песни над землёй,
Оранжевое счастье нам с тобой…»
В воскресенье у нас с Игорем был «Оранжевый день»))
Наши ножки занесли нас на одну из старейших улиц Москвы – Ильинку. Для новых полетов наш Оранжевый «фотограф» выбрал здание
Торгово-Промышленной палаты!

Оранжевость продолжалась…=)
Советую Вам погулять по Москве и полюбоваться на ее красоту. В обычный будний рабочий день красоту города не замечаешь, все время куда-то бежишь. Поверьте этот город не хуже Парижа, Рима, Санкт-Петербурга. Ощутите себя маленьким человечком среди величественных зданий. И пусть летний ветерок и тепло сопровождают Вас!
As it is sung in one song:
«The orange sun in clouds,
Orange songs over the earth,
Orange happiness to us with you …»
On Sunday we with Igor had «an Orange day»))
Our feet have brought us to one of the oldest streets of Moscow – Ilyinka. For new flights our Orange "photographer" has chosen a building of Commercial and Industrial chamber! Orange continued ... =)
I advise you to walk in Moscow and to admire its beauty. In the usual week working day beauty of a city you do not notice, all the time running away somewhere. Believe me, this town is not worse than Paris, Rome and St Petersburg.

Feel like a little man among majestic buildings. And let the summer wind and warm accompany you!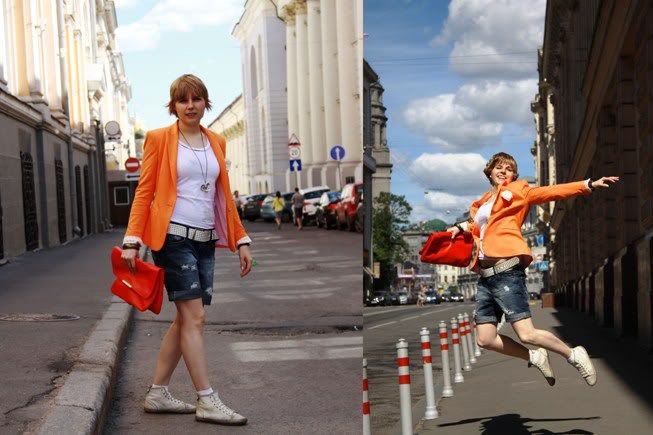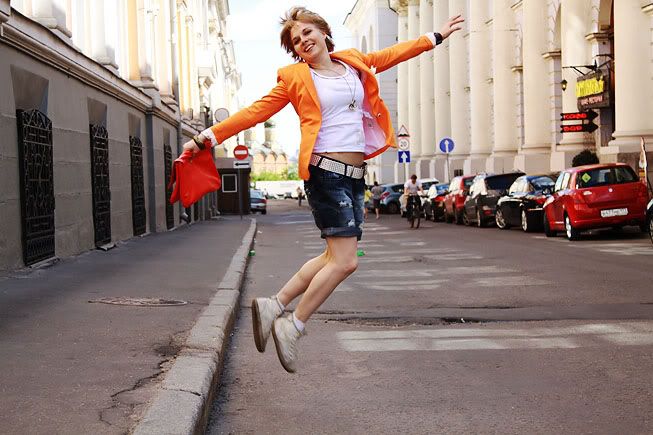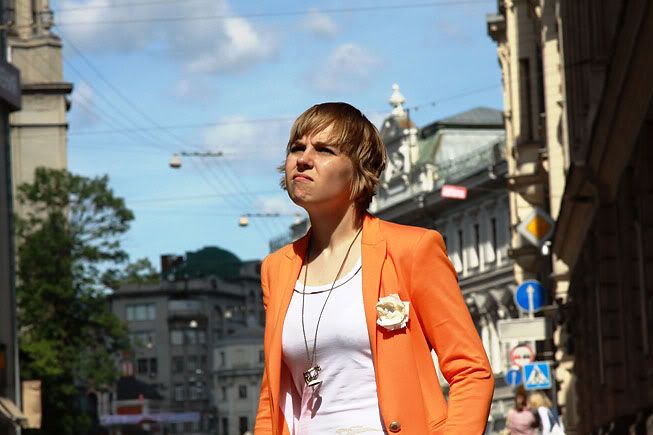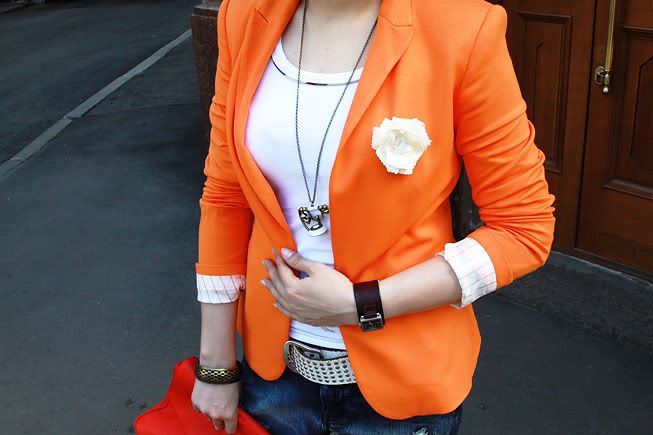 Майка (Vest) http://www.burberry.com/
Пиджак (Jacket) http://www.zara.com/
Шорты (Shorts) http://www.pullbear.com/#/ss8mm/
Кеды (Snakers) http://www.bronxshoes.com/
Сумка (Bag) http://www.zara.com/
Браслет (Bracelet) http://www.caramelles.lv/lv/
Брошка (Brooch) http://www.dsquared2.com/
Кулон античный телефон (Antique telephone long pendal necklace) http://www.accessorize.com/
Часы (Watch) http://www.fossil.com/