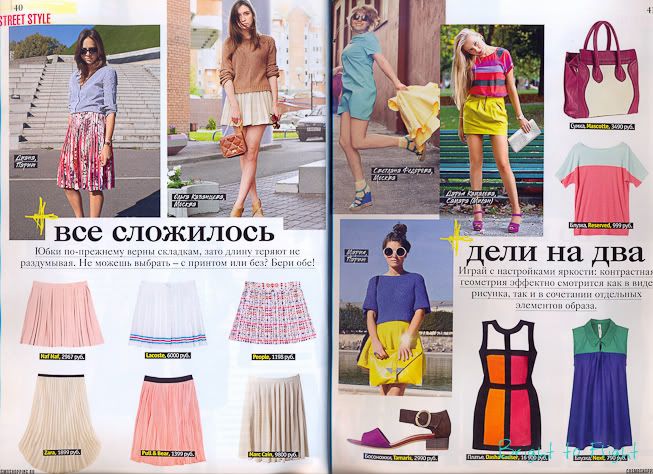 In late March woman from the magazine Cosmopolitan Shopping wrote to me and she asked to me sending my photo in high resolution of one of my looks. I was in disturbing anticipation, when I will see myself in the magazine! =)) As time went on, I bought the magazines, and my look wasn't in the pages of Cosmopolitan Shopping, and I decided, that the editors changed the mind, and my look did not approach. But what was my surprise, when I found my photo in the June issue, it is beyond words! =)) At last, I'm in the glossy magazine with my very favorite look, which will soon be a year old! The fate is interesting and unpredictable thing, a couple of years ago I never thought that I will appear on a magazine page! I am very pleased, that editors chose and estimated my look. Thanks, the Cosmopolitan Shopping, I will continue to try and I hope that it is not my last emergence in the «luster».
Привет!
В конце марта мне написали из журнала

Cosmopolitan

Shopping

и попросили выслать фотографию в хорошем разрешении одного из моих образов. И с этого началось моё волнительное ожидание, когда же я увижу себя в журнале! =)) Время шло, я покупала журналы, а моего образа на страницах

Cosmopolitan

Shopping
всё не было, и я решила, что редакция передумала, и он не подошел. Но каково же было моё удивление, когда я обнаружила свою фотографию в июньском номере, не передать словами! =)) Наконец-то, я в глянцевом журнале, да еще и благодаря моему самому любимому образу, которому скоро будет годик! Судьба интересная штука и непредсказуемая, пару лет назад я и подумать не могла, что я когда-то окажусь на страницах журнала! Мне очень приятно, что мой образ выбрали и оценили. Спасибо, редакции Cosmopolitan Shopping, я буду продолжать стараться и надеяться, что это не последнее моё появление в «глянце».