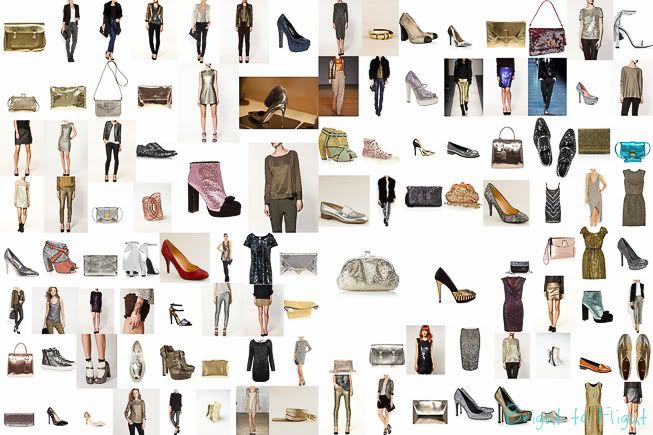 Today in the heading «Interesting finds in the stores» I will tell you about popular in this season sequins, spangles, metallics, in general, about all things, which fascinate women with its brilliance! In this season you can choose whatever your heart desires from dresses, pants, jackets to nail polish and shoes! Metals and spangles are perfect accessories for parties, they reflect light and give the moods of the holiday, but you are careful, that you are not to turn into a Christmas tree. They are dangerous for women with problem zones, so as you are not to transform themselves into the brilliant disco ball, you better choose dresses of shades of bronze, tin or black shine, thus glitter and sequins should be in those places, on which should attract attention, but it is not vice versa! =)) You don't forget about the fact that if the clothes shine, the accessories aren't needed, or they should be restrained, differently you will become the dancer of a burlesque! =)) After all your impeccable taste from of bad taste is separated by a thin line, when you choose shiny outfits. But you don't worry, it is not all so difficult! =)) It is necessary to remember a few rules, and you are the Queen! You don't become flustered! You feel free to choose trendy colors of this autumn - there are gold, silver, and platinum, copper and enjoy in the brilliant winter 2011-2012. The calm black look will look absolutely differently if you add to it a gold or silver jacket. For the less courageous of you for whom the gold dress - it is a bust, I advise, that you add in the image a simply brilliant accessory: a bag, a belt or the shoes trimmed with metallic strips. Imagine how your casual look with jeans and a gold bag will be unusual and beautiful to look. But also you do not necessary to refuse on the dresses.
If you want to reduce the shine of your dress, you add to it a simple jacket. Choose a simple silhouette of a dress, that the dress was not vulgar, but this dress must be a chic! =)) If the dress is too short, try to wear it with slim jeans or trousers, leggings are excluded from this list! =)) In general, you are risking, shining, experimenting! After all the New Year is very soon and a couple of corporate events are too! =)) Honestly, I confess I do not like all that shines, but on some girls it looks oh, so beautiful! I very much would like that you have shared the photos in brilliant dresses and, of course, your opinion about this is brilliant-metallic fever!
What do you think about this?
Привет, друзья!
Сегодня в рубрике «Находки в магазинах» расскажу Вам про популярные в этом сезоне пайетки, блестки,

metallics

, в общем, про все вещи, которые завораживают женщин своим блеском! В этом сезоне можно выбирать все, что душе угодно от платьев, брюк, пиджаков до лака для ногтей и туфелек! Металлы и блестки – превосходные аксессуары для вечеринок, они отражают свет и придают настроение праздника, но будьте аккуратны, чтобы не превратиться в новогоднюю елку. Опасны они и для девушек с проблемными зонами, чтобы не превратить себя в подобие блестящего дискобола, лучше выбирайте наряды оттенков бронзы, олова или черного блеска, при этом блестки и пайетки должны быть в тех местах, к которым стоит привлечь внимание, а не наоборот!=)) Не забывайте и про то, что если одежда блестит, то аксессуары либо вовсе не нужны, либо они должны быть сдержанными, иначе вы превратитесь в танцовщицу бурлеска!=)) Ведь Ваш безупречный вкус от безвкусицы отделяет тонкая грань, когда Вы выбираете блестящие наряды. Но не переживайте, не все так сложно!=)) Стоит просто запомнить несколько правил, и Вы-королева! Не тушуйтесь! Смело выбирайте трендовые оттенки этой осени- золото, серебро, платину, медь и наслаждайтесь блестящей зимой 2011-2012. Спокойный черный лук будет смотреться совсем иначе, если к нему добавить золотой или серебристый пиджак. Для менее смелых из Вас, для кого золотое платье – это перебор, советую, добавить в свой образ просто блестящий аксессуар: сумку, ремешок или туфли, отделанные металлическими полосками. Представьте, как необычно и красиво будет выглядеть Ваш повседневный лук с джинсами и золотой сумочкой. Но и от платьев не стоит отказываться. Если нужно уменьшить сияния Вашего платья дополните его простым пиджаком. Выбирайте простой силуэт платья, чтобы платье было не вульгарным, а шикарным!=)) Если же платье слишком короткое, попробуйте надеть его с узкими джинсами или брюками, лосины исключите из этого списка!=)) В общем, рискуйте, блистайте, экспериментируйте! Ведь новый год совсем скоро и пора корпоративов тоже!=)) Честно признаюсь, я не люблю все то, что блестит, но на некоторых девушках это смотрится ах, как красиво! Мне бы очень хотелось, чтобы Вы поделились своими фотографиями в блестящих нарядах и, конечно, Вашим мнением об этой блестяще-металлической лихорадке!
Что Вы думаете об этом?
DRESSES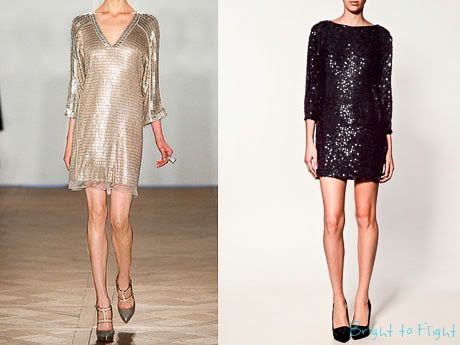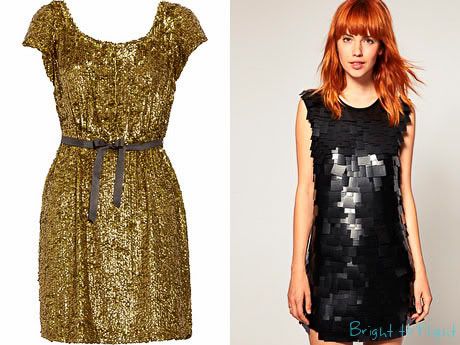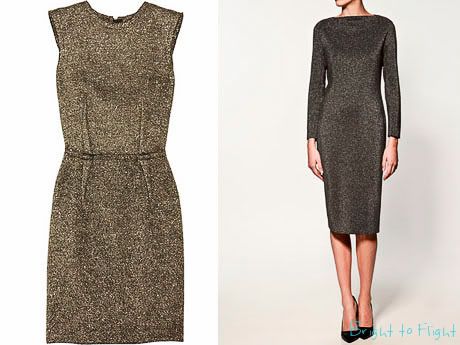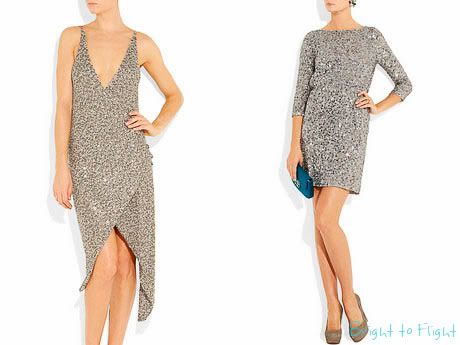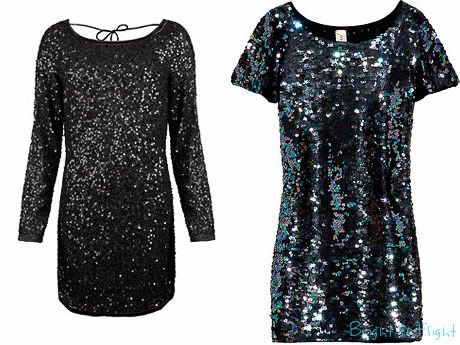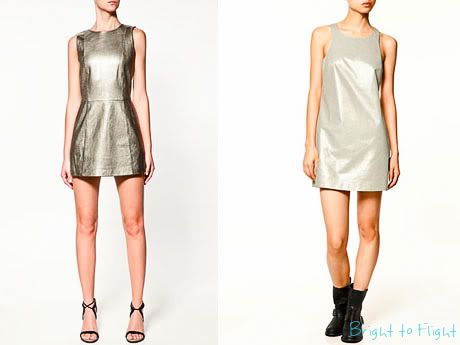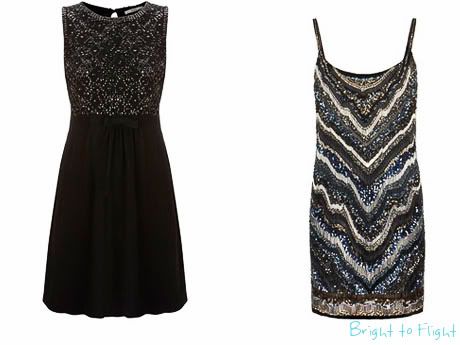 JACKETS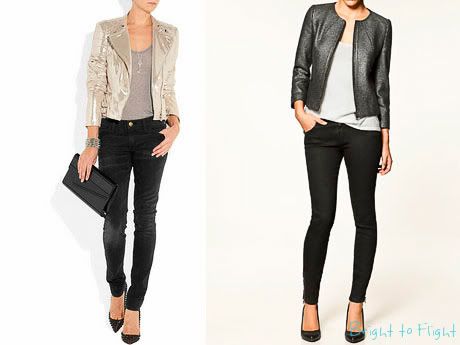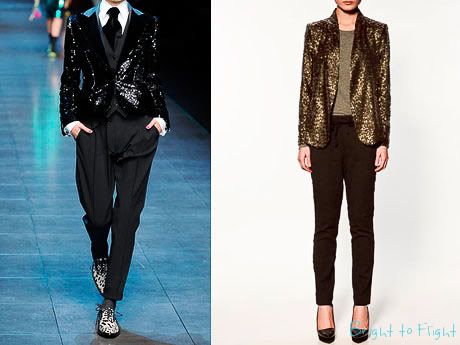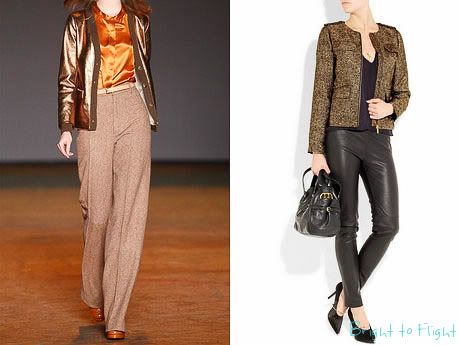 TOPS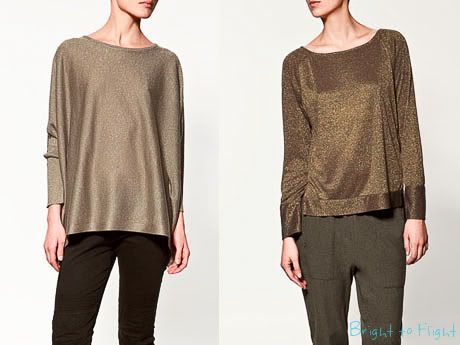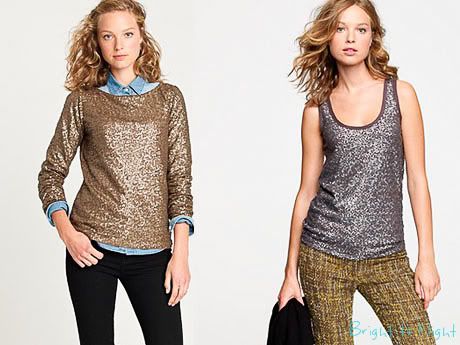 PANTS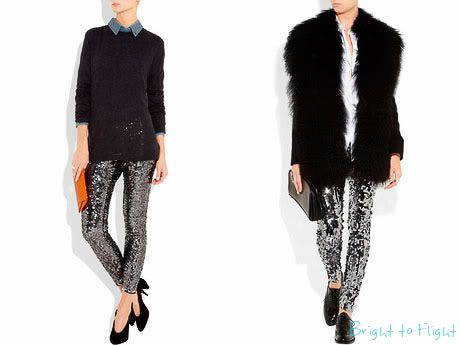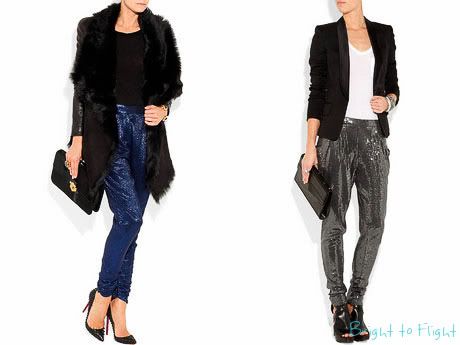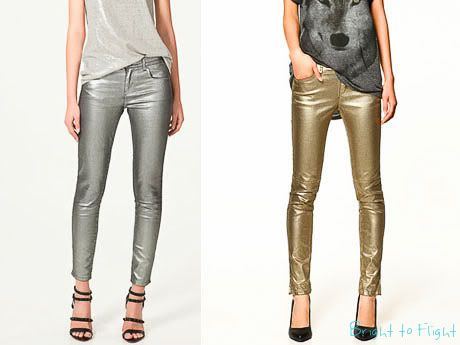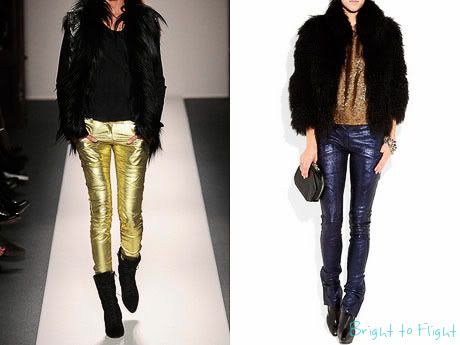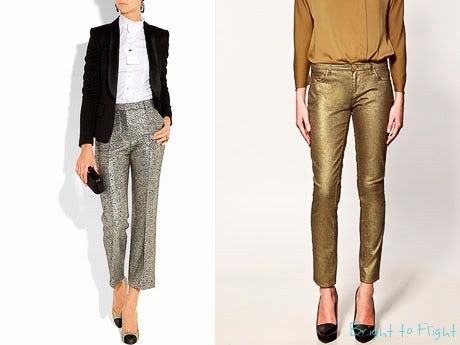 SKIRTS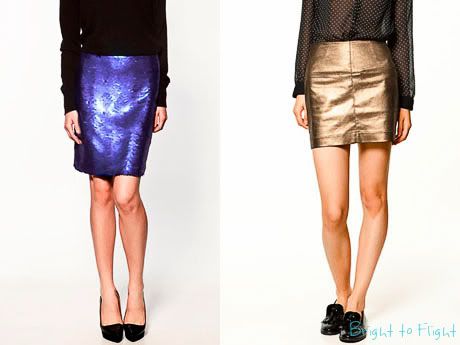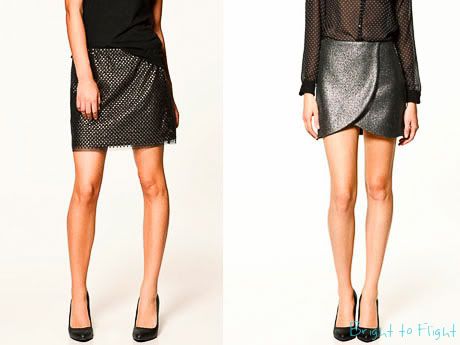 BELTS
BRACELETS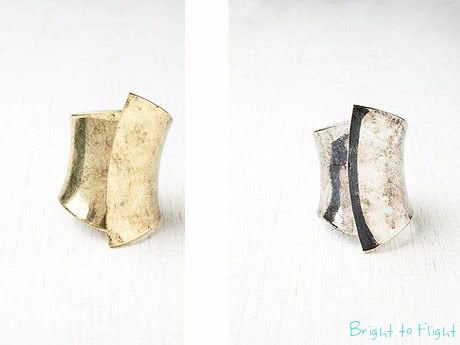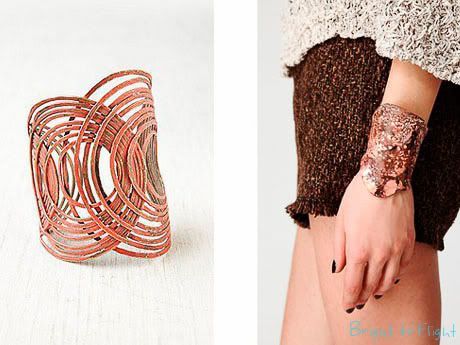 BAGS AND CLUTCHES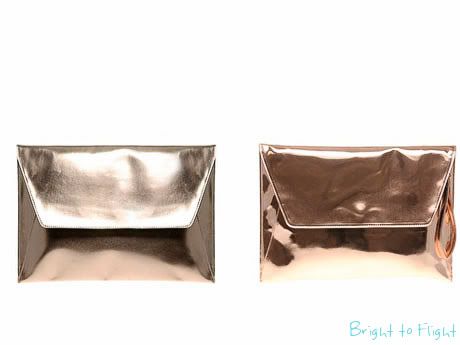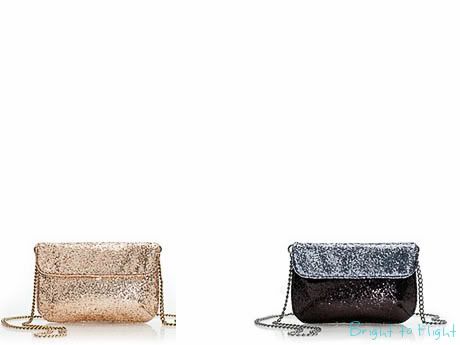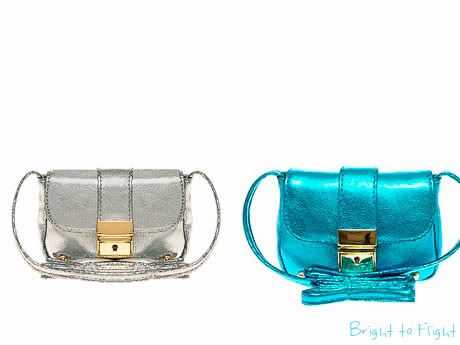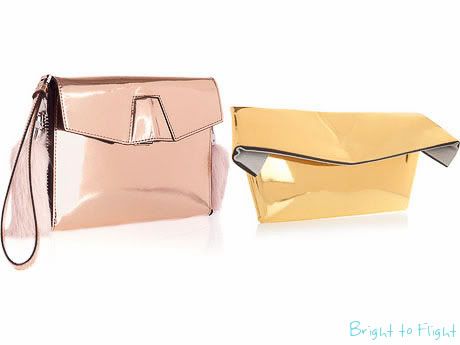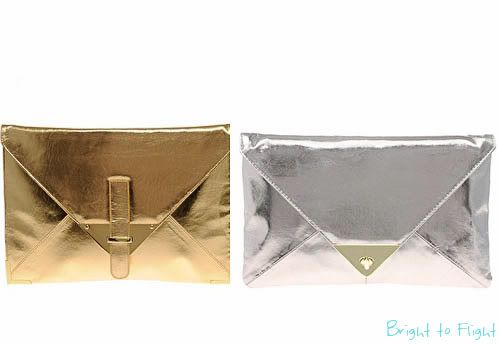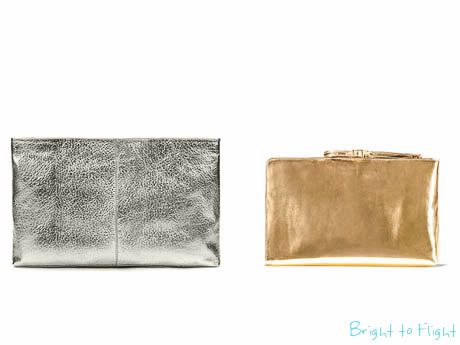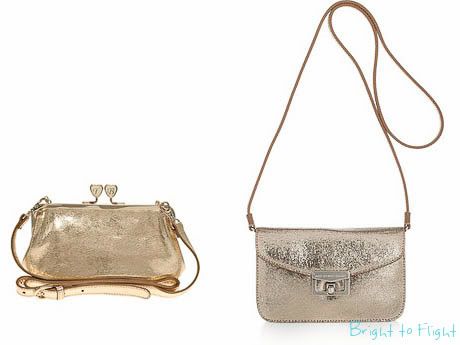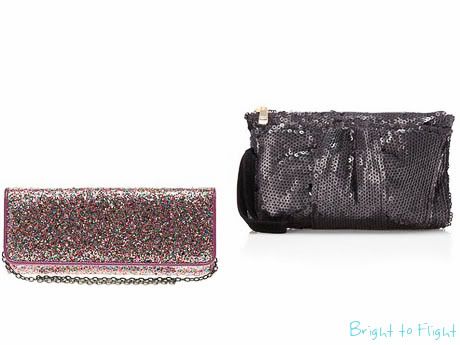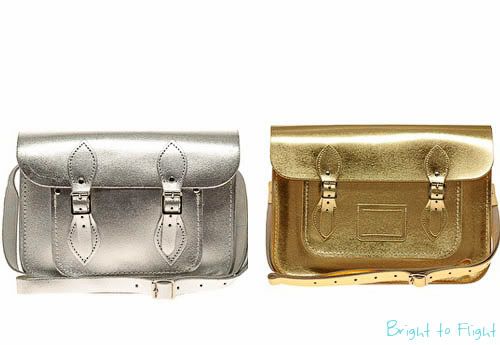 SHOES (HEELS, BOOTS, SNEAKERS AND OTHER)