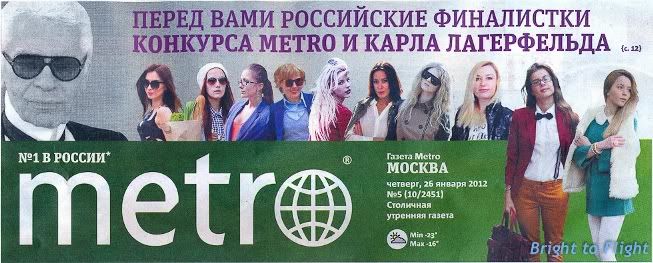 Today I'm very, very good mood, I entered in the ten Russian finalists of competition METRO and Karl Lagerfeld!

Among the huge quantities of photos of the most beautiful girls and guys, which participated in the competition, in our great country, I have entered into the top ten! I am madly glad to IT! =))
If it is fair, I have forgotten that today declare the finalists, and for me it was a pleasant surprise to see yourself in newspaper METRO on a cover in the morning!

My face broke into a smile, and I felt myself as happy "little fool" among morose people! When I went to work and met people with newspaper METRO in the hands many of them, having seen me, started to smile and congratulate me, it wasn't less pleasant for me! It is pleasant to bring pleasure still to someone except itself! THANKS!
And, probably, I will see Karl Lagerfeld in Paris! I VERY STRONGLY WANT IT!
Сегодня
у меня ОЧЕНЬ-ОЧЕНЬ хорошее настроение, я попала в
десятку Российских финалистов конкурса
METRO
и Карла Лагерфельда! Среди огромно количества фотографий
красивейших девушек и парней, которые участвовали в конкурсе, в нашей огромной стране, я вошла в десятку! Я БЕЗУМНО РАДА ЭТОМУ! =))
Если честно, я забыла, что сегодня объявляют финалистов, и для меня было приятным сюрпризом утром увидеть себя в
газете
METRO
на обложке! Мое лицо расплылось в улыбке, и я ощущала себя счастливой «дурочкой» среди угрюмых людей! Не менее приятно было и то, что когда я шла на работу и встречала людей с газетой METRO в руках, многие из них, увидев меня, начинали улыбаться и поздравлять меня! Приятно принести радость еще кому-то кроме себя! СПАСИБО!
И, возможно, я увижу Карла Лагерфельда в Париже! Я этого ОЧЕНЬ СИЛЬНО ХОЧУ!